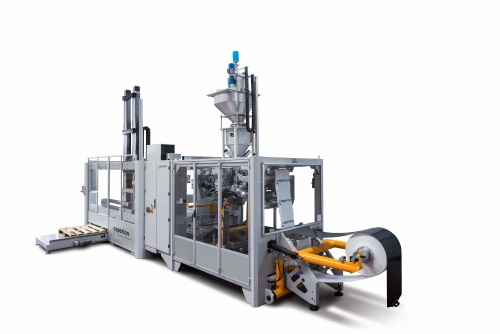 Coperion and Coperion K-Tron will present an integrated bagging and palletizing machine IBP 500 and a sanitary filter receiver amongst other machines at Pack Expo 2015 in Las Vegas, US from September 28 to 30.
The form/fill/seal (FFS) packaging machine IBP 500 with automated features provides accurate weighing, ideal dosing and hygienic packaging for crystalline, granular, beaded or flaked goods.
Ideal for free flowing granular products, this machine saves production space as well as planning and installation costs.
It has easy-to-use operator menu and comprehensive documentation.
It accepts multiple bag styles and its modular design allows an easy upgrade of machine performance to be made without replacing the complete system.
Options such as check weigher, metal detector, bag marking system and automatic cleaning can be integrated into the system. The advanced control functions permit complete integration of the packaging line into a variety of processes, including pneumatic conveying, feeding or extrusion, which can also be provided by the two companies.
The Sanitary Filter Receiver (SFR) provides automatic separation of product material from the convey air for vacuum and pressure conveying sanitary applications in batch and continuous processes.
It is designed for stringent food applications requiring quick clean-out and to reduce food contaminants and/or the cross contamination of allergens.
The unit is easily cleaned with round corners, no ledges and hidden areas.
The tool-less side entry access door allows for safe and easy cleaning of the unit and simple access to the filter media for fast changeover.
The access door and tube sheet are integrated on a hinge with removable tube filter assemblies.
The material entry design on the top of the receiver reduces can velocity concerns.
The unit also features an integral 70 degree hopper, mounting legs and pressure differential indicator.
The SFR is designed to meet US Food and Drug Administration, European Hygienic Engineering & Design Group, French Atmospheriques Explosives or ATEX standards and can easily be adapted for National Food Processors Association standards.
The SFR is available in a 36-inch and a 48-inch diameter unit.
It is constructed from DIN 1.4301 [AISI 304] stainless steel with polished P150 grit Ra 0.8 surface on both the interior and exterior of the unit – commonly used in food processing and dairy equipment.
All product contact welds are continuous ground flush and polished to 1.65 Ra (80 grit).
The filter tube sheets include filters made from spunbond polyester with an expanded polytetrafluoroethylene or ePTFE membrane that is FDA acceptable.
The filters are cleaned by sequential pulses of compressed air from a removable, locally mounted accumulator.
Pulsing intervals are adjusted via a DIN 1.4301 (AISI 304) stainless steel IP66 (NEMA 4X) timer panel to ensure optimal cleaning.