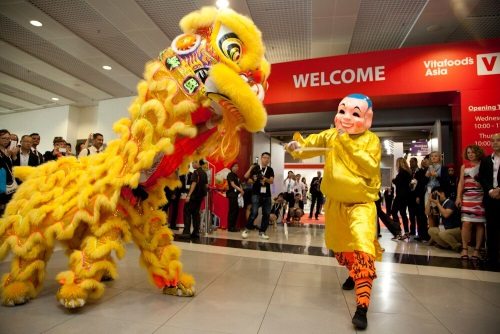 The fifth edition of Vitafoods Asia, an event on the nutraceutical, functional food and beverages, and dietary supplement industries in Asia, returns to Hong Kong from September 2 to 3, 2015.
With more demand for healthy products, nutraceuticals and dietary supplements by health-conscious Asians, Food News International asks Chris Lee, portfolio director of Vitafoods, on what trade visitors can expect to learn about the region at the show.
FNI: What fresh perspectives would trade visitors have at the show?
Lee: This year's Vitafoods Asia features a number of new additions within the exhibition, as well as a new conference program, which have all been specifically designed to meet the unique needs of our visitors.
We have partnered up with the Omega-3 experts at Global Organisation for EPA and DHA Omega-3s (GOED) to develop a pavilion that features the latest innovation and product development within Omega-3s.
From sustainable sourcing of raw material, formulation technology, odor masking techniques, to encapsulation solutions, the GOED Omega-3 Pavilion features all aspects of the Omega-3 value chain.
One of the core functions of Vitafoods is to facilitate solutions for business growth.
At the Global Market Theatre, experts provide thorough market overviews, regulatory framework workshops, and also outline the latest developments within innovation and research and development (R&D).
This is to help our visitors plan their market entry strategies to specific countries (China, Japan, Indonesia, and Malaysia) and regions (Europe and the US).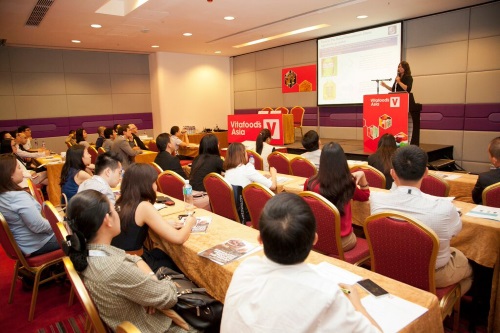 As we attract thousands of attendees each year — from both R&D and business/marketing backgrounds — this year's Vitafoods Asia Conference has been expanded and restructured to better allow us to tailor content in order to meet the needs of our visitors.
The Vitafoods Asia Conference has been divided into two streams.
The first stream, Your Business, focuses on how to turn consumer and business intelligence into insights and competitive growth strategies.
The second stream, Your Science, presents the latest R&D, product and ingredient innovations across a number of specific health categories combined with a market overview and consumer insight.
This structure allows delegates to tailor their program according to their job role and individual objectives, as they can move freely across both sections.
The Tasting Bar at Vitafoods Asia enables visitors to sample and compare a selection of the many finished products on display at the show.
Products include gummies, crisps, bars, drinks, powders, shots, teas sweeteners, spreads, and meal replacements.
This year, we are launching Best Functional Food and Best Functional Beverage Awards — which is, once again, all about innovation.
Successfully formulating for health whilst maintaining the desired level of core attributes (e.g. texture, taste, and overall appearance) is an art form that well-established big industry names find difficult to master.
This is especially the case when re-formulating an existing product to create a healthier version of an existing consumer favorite.
The Tasting Bar Awards recognizes innovation, as well as the science and R&D investment that goes into a new product.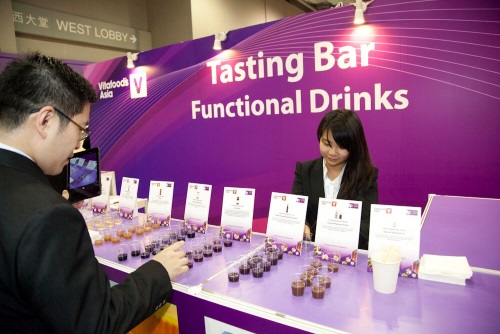 FNI: How has the industry evolved since the last show?
Lee: Most of the significant changes that can be seen are around regulations, which will have a big impact on the functional food and beverage, and dietary supplement market within the region.
With the ASEAN agreement on harmonizing regulations due to be finalized by the end of the year, and a stricter framework and production guidelines to ensure product safety in China, the functional nutrition and dietary supplement industry will need to adapt to stay competitive.
With countries like Japan actively looking to expand their industry internationally, and continuingly growing markets like Indonesia and Malaysia; this presents a very exciting opportunity for the functional nutrition industry to achieve further business growth both at home and overseas.
Within the exhibition, we see considerable growth of the Finished Products Pavilion, which reflects the demand from Asian distributors and retailers, who are actively seeking new products for weight management, ageing, and beauty for example.
FNI: What innovative products are expected at the show?
Lee: Over the years, we have observed that the areas of weight management, healthy ageing, and beauty are traditionally what the Asian market is more interested in.
This is still true, in terms of the innovations and new product launches that we are receiving for the upcoming edition of the show.
It is indicative of Asian consumers' growing demands for new or improved supplements that support their lifestyle.
FNI: What synergies would visitors see between Vitafoods Asia and Vitafoods in Europe?
Lee: All Vitafoods events share the same focus and vision — that is, to bring the nutraceutical industry to together to facilitate business, to provide information on regulations, market trends and insight, and to offer a showcase of the latest ingredients, raw materials, and finished products.
In our experience, industry professionals from around the world are keen to see the latest innovations and understand the business landscape.
So in that respect, Vitafoods Asia and Vitafoods Europe are the same.
We provide that forum to see innovation in our visitor attractions like the New Products Zone, Global Market Theatre, Conference and Finished Products Pavilion.
We ensure regulatory issues are covered, by partnering with EAS Strategies, and we work closely with other research houses like Frost & Sullivan and Innova Market Insights for information about trends.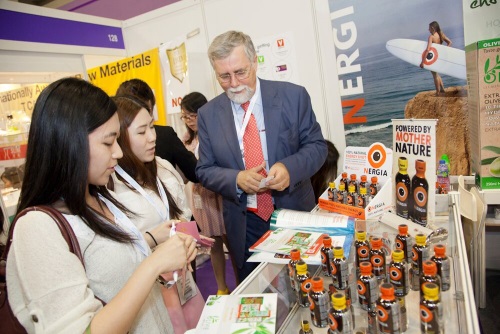 FNI: How customized would Vitafoods Asia be for the region?
Lee: If you have visited Vitafoods Asia before, you will know that there are free presentations for visitors — in the Global Market Theatre and the Exhibitor Presentation Theatre, which offer customized content for Asians visitor.
The conference too, covers the challenges and business issues in the region, focusing on topics like weight management, nutricosmetics, and healthy ageing, which we see are big markets in Asia.
Other hot subjects in Asia include building a brand and successfully launch in the region.
There will also be presentations by HealthBrandBuilders and the Healthy Marketing Team at the conference on international perspectives and practical advice to companies looking to expand their businesses out of their country.