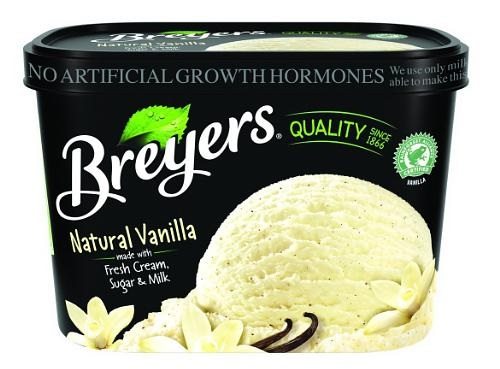 Breyers revealed that it is now the largest packaged US ice cream brand to source only milk and cream from farmers who do not treat their cows with artificial growth hormones.
Suppliers of other ingredients such as cookies, candies and sauces may not be able to make this pledge.
The Food and Drug Administration states that no significant difference has been shown between dairy derived from recombinant bovine somatotropin (rBST)-treated and non-rBST treated cows.
The entire Unilever ice cream portfolio – including Fruttare, Good Humor, Klondike, Magnum and Popsicle Brands – will follow the Breyers lead and transition to sourcing milk and cream from cows not treated with artificial growth hormones in 2015, making Unilever the largest ice cream manufacturer in the world to make this commitment.
Breyers will also launched a new initiative with the Rainforest Alliance, an international nonprofit working to conserve biodiversity and ensure sustainable livelihoods.
Through this initiative, all Breyers vanilla will come from sustainably sourced and Rainforest Alliance Certified vanilla beans from Madagascar.
"Breyers has a longstanding history of offering frozen treats with high-quality ingredients that moms feel good about," said Alessandra Bellini, vice president of brand development at Unilever North America.
Breyers Natural Vanilla ice cream for example contains five ingredients, such as fresh cream, sugar and milk.
"Parents are increasingly aware of the impact their shopping decisions have on the world at large," said Donita Dooley, senior manager of global media strategy, marketing & communications at the Rainforest Alliance.
"Now, parents can feel good about the fact that 100% of the vanilla in every carton of Breyers derives from Rainforest Alliance Certified vanilla beans."
"With this important step, Breyers® is helping to improve environmental protection, social equity and economic viability for farm communities."