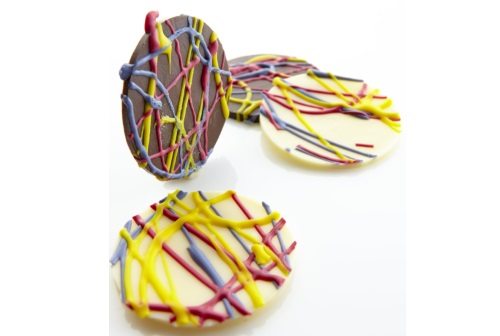 The Barry Callebaut FullFill Factory featuring a personalised process was presented at the ISM 2015 in Cologne, Germany.
"The FullFill Factory caters to the demand for personalized concepts present in all market segments, being mainly confectionery, bakery and ice cream," says Sofie De Lathouwer, marketing director FM Western Europe at Barry Callebaut.
The personalization process is made up of four possible steps.
The customer chooses the desired base product (being chocolate, compound or a filling) and has the possibility to add color(s), flavor(s) and/or texture.
The FullFill Factory provides flexibility in its color and flavor offerings for food manufactures with its convenient 1 kg format of cocoa butter-based flavor and color components, called FullFlavors and FullColors respectively.
The Color Master ensures convenient use and guarantees consistent results, time after time.
A comprehensive variation of these components and the ease in which they can be mixed, melted and dosed, ensures the FullFill Factory concept offers the most convenient and personalized creativity solution.
Components can be blended with the customer's equipment or with the Barry Callebaut FlexMelter, which is a flexible melting and blending container for solid and liquid chocolate, compounds and fillings.
The FlexMelter is created to support the process of blending in smaller batches or quantities, while avoiding contamination issues with normal production lines.
Besides, Barry Callebaut can also produce the complete product in-house and deliver the finished product to its customers.
As there are certain legal regulations for the use of colors and some flavors in manifold applications, the concept provides the support that calculates the legally allowed doses to comply with European Union legislation.