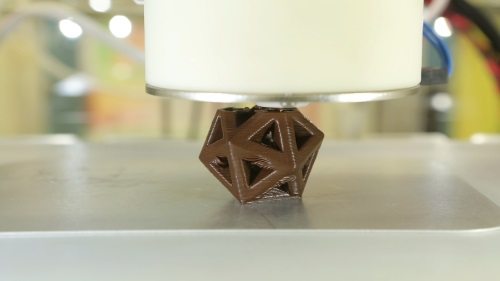 The Hershey Company, in partnership with 3D Systems, announced the December 19 debut of its three dimension (3-D) Chocolate Candy Printing exhibit at Hershey's Chocolate World Attraction.
"We are now using 3-D technology to bring Hershey goodness to consumers in unanticipated and exciting ways," said Will Papa, chief research and development officer, The Hershey Company.
"3-D printing gives consumers nearly endless possibilities for personalizing their chocolate, and our exhibit will be their first chance to see 3-D chocolate candy printing in action."
At the events, visitors witnessed live 3-D printing and examples of finished products, interact with a library of 3-D graphics pre-loaded on iPads and be scanned to see what they would look like as a piece of 3-D chocolate.
"We are committed to democratizing 3-D printing, making this game-changing technology accessible and engaging for everyone," said Chuck Hull, founder and CTO, 3D Systems.
One of Hershey's goals is to gather knowledge and insights directly from consumers after they experience the interactive exhibit.
Through a survey presented on a large touchscreen, consumers will have the opportunity to share their preferences on customization options and product design.
This information will influence the final technology and business model for a commercial 3-D chocolate candy printing experience.