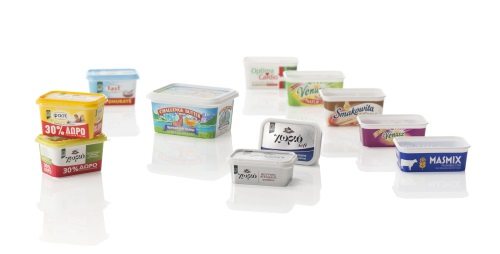 Europe: RPC Bramlage releases IML containers as cost-effective packs
RPC Bramlage has developed a range of high quality in-mold label (IML) standard containers and lids for spreads and yellow fats to meet growing market demand for cost-effective packs that create brand differentiation and generate on-shelf impact.
The new range offers four sizes from 250g to 1kg.
For maximum flexibility on filling lines, the 250g, 400g and 500g packs fit a single lid, making them fully interchangeable.
The containers are injection molded in polypropylene and the in-mold labelling enables multi-colored and intricate designs to be created that cover the entire area of the packs.
This produces a level of finish and detail that could not be achieved by on-pack printing to project a quality image and effective brand positioning.
The labels can also be supplied with a metal-effect finish or incorporating a barrier to prevent oxygen ingress.
"As markets become more competitive, we are seeing an increasing market focus on high quality decoration for spreads, and yellow fats in particular, in order to attract attention on-shelf and establish and retain consumer loyalty," says sales manager Peter Van Dyck.