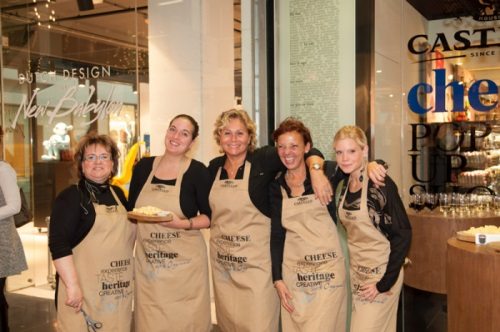 Arla Foods Ingredient's global premium cheese brand Castello opened its first pop-up store in The Netherlands on October 25, 2013.
The colorful 'experience store' is designed to take consumers on a culinary journey through the world of specialty cheese.
Until the end of the year, the store will be located in the New Babylon shopping mall in The Hague.
It will travel around the world and appear in cities such as London, Stockholm, Berlin, Copenhagen and New York.
In the Castello store, cheese lovers can taste more than 40 cheeses paired with wine, chutneys, jams or crackers.
Store staff will be advising consumers on the best food pairings, for example, Aged Havarti with caramelized onion chutney and a Rioja, Creamy Blue with Greengage Plum Confit and a Cabernet Sauvignon.
The pop-up store tells the story of the Danish visionary Rasmus Tholstrup and his family.
The Castello story began in 1893, when young  Tholstrup dedicated his life to cheese-making and travelled around the world to gain experience and knowledge.
Today Castello offers traditional blue cheese such as Danablu next to Swedish Kvibille and the Bavarian cheeses made of mountain milk from the Alps.
"Taste is enhanced if there's a story behind it. If you know the background to what you are tasting, food really comes to life and you can enjoy it to the full, especially when pairing food. In this unique store, cheese is not one-dimensional!" says Mark Schreuders, sales director at Arla Netherlands.
This particularly applies to the product range of premium artisanal cheeses Unika By Castello, which were created in collaboration with some of Denmark's most celebrated chefs and are sold in restaurants.