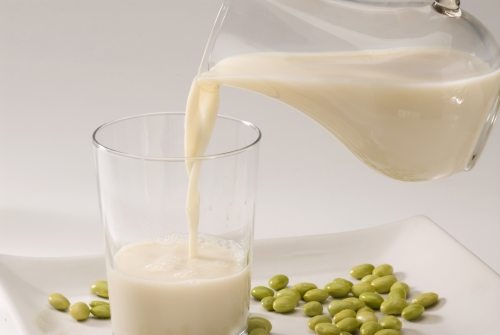 Hong Kong-based Vitasoy International Holdings Limited (VIHL) has announced its interim results for the six months ended 30th September 2013.
It said it has maintained its growth momentum of 9% in net sales to HK$2,326 million (US$300 million) for the first six months on its core business across operations.
The group's gross profit was HK$1,118 million (US$144.14 million) , up 11% year-on-year, driven by the sales growth.
Despite the rise in raw material costs, gross profit margin slightly improved to 48% through tactful pricing strategy and improved manufacturing efficiency.
Profit attributable to equity shareholders amounted to HK$182 million (US$23.46 million), increased by 6% year-on-year.
"In the first half of FY2013/2014, our two major products soy and tea performed well and contributed to the overall growth," said Winston Yau-lai Lo, executive chairman.
For the first six months of FY2013/2014, the operation registered a steady net sales growth of 4% to HK$937 million (US$120.80 million) and an operating profit increase of 3% to HK$165 million (US$21.27 million).
Hong Kong, Macau: New launches
During the period, Vitasoy Hong Kong has launched several new products including VITASOY CALCI-PLUS Plant Sterol Soy Drink in Tetra Brik packs and No Sugar VITA Chrysanthemum Tea in polyethylene terephthalate or PET bottle format, and new TV commercials in VITASOY and SAN SUI soy drinks range.
The company said SAN SUI has become the market leader in the fresh soy drink category.
"Our two major product categories, soy and tea, performed solidly, which was driven by product innovation and strengthened brand equity," said Roberto Guidetti, Vitasoy group CEO.
"The Macau business continued to report remarkable performance with renewed focus on execution, while our export business continued to grow in value and volume with new product launches and market expansion."
"The tuck shop business recorded steady sales growth with increased number of schools served and improved renewal rate and product mix."
"In the next six months, the operation will focus on driving growth in soy and tea across different channels and packaging forms to reinforce our leadership position, whilst implementing prudent cost management to safeguard our gross margin," Guidetti added.
China: Accelerated growth
Vitasoy China recorded sales growth of 21% to HK$849 million (US$109.46 million) and operating profit increased by 20% to HK$116 million (US$14.96 million).
The key drivers were consistent execution of the "Go Deep Go Wide" strategy, restage of VITASOY core range and communications, as well as enhancements in VITA Lemon Tea business.
During the interim period, the operation reported sales with further market penetration made in Southern China and an expanded coverage in both geographies and channel distribution.
The Foshan plant has supported enhanced distribution and facilitated market expansion within and outside Guangdong respectively.
In terms of brand development, VIHL restaged the whole VITASOY range with new packaging and focused on marketing the functional benefits of VITASOY products, supplemented by a new TV and marketing campaign, "Start Your Day Well with VITASOY".
The company said the VITA Lemon Tea experienced positive consumer response and has become one of the leading brands in the tea category in Guangzhou and Shenzhen markets.
Australia, New Zealand: Experience growth with execution
The Australian operation reported an 8% sales growth in local currency, by leveraging the strong brand equity, depth of product portfolio and innovation capability.
The topline growth was driven by the focus on improving product range and promotion gains, thus expanding market share.
However, due to the negative impact of weaker Australian dollar, the net sales revenue and operating profit dropped slightly by 2% and 1.5% to HK$255 million (US$32.88 million) and HK$39.9 million (US$5.14 million) respectively.
The VITASOY CAFE FOR BARISTAS Soymilk continued to grow with the addition of a new product in May for the optimal soy coffee experience.
In New Zealand, distribution was shifted to the joint venture partner consistent with Australia, driving growth with improved sales and profitability.
North America: Challenging raw materials costs
Vitasoy USA continued to enhance its market leadership in both the US Tofu and Asian Pasta categories and maintain its solid position in the imported Asian beverage market.
The operation recorded a 5% increase in sales to HK$243 million (US$31.33 million).
However, the escalating costs in raw materials and higher maintenance costs have impacted the operation's profitability.
During the period, Vitasoy USA drove growth in both category and brand sales by restaging NASOYA and launching a Black Soybean Tofu into the mainstream and Asian channels along with PASTA ZERO into the mainstream channels.
On the manufacturing front, the operation continued its efforts in normalizing the production and focused on improving manufacturing efficiency.
Singapore: Controlled operating costs
Unicurd, the group's wholly-owned subsidiary in Singapore, recorded a sales growth of 3% to HK$42 million (US$5.41 million) whilst operating profit improved significantly by 22% in the interim period of FY2013/2014.
The company said its operation expanded its leadership position with its major tofu categories all performing well.
Its efforts to drive more profitable product/channel mix, higher priced innovation like Black Tofu and greater manufacturing efficiency have contributed to the improved operating profit.